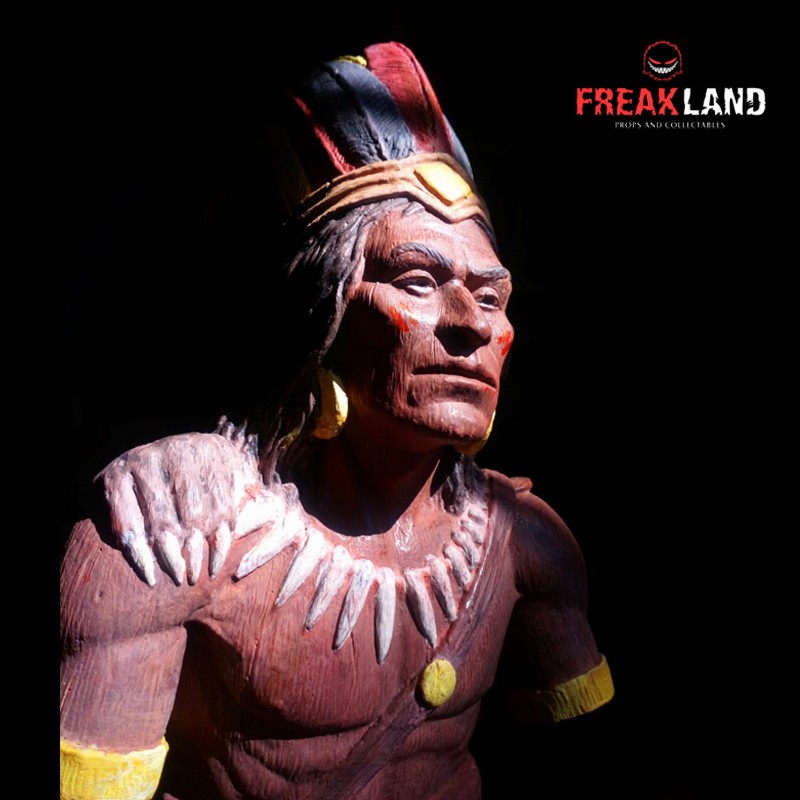  
Old chief Woodenhead bust
Creepshow 2 is a 1987 American comedy horror anthology film directed by Michael Gornick,and the sequel to Creepshow. Gornick was previously the cinematographer of the first film, and the screenplay was written by Romero who was director of the original film. It was once again based upon stories by Stephen King, and features three more horror segments consisting of "Old Chief Wooden Head", "The Raft" and "The Hitchhiker".
"Old Chief Woodenhead" kicks off the anthology with a tale of revenge. When a sweet elderly couple are slaughtered by a greedy trio who have come to steal valuable collateral on loan by a Native American tribe elder, the wooden Indian that adorns their store's front porch comes to life to seek retribution.
The makeup effects were created by Ed French (The Stuff, Blood Rage, Terminator 2: Judgment Day), who sculpted the body of Old Chief Wood'nhead. Mike Trcic (Jurassic Park, In the Mouth of Madness) sculpted the head. It was actor Dan Kamin, a mime, who brought the creature to life with stiff, wooden movements. The look and movements of this creature elevate a fairly straightforward segment.
----------------------------------------------------------------------------------------------
Technical data sheet :
Dimensions : 9,4 x  6,5 x 5,5 in (height/width/deep) (24 x 16,5 x 14 cm ) including base.
Materials : Polyurethane resin bust with a rigid polyurethane foam to lighten the weight of the piece.
Painting: Hand painted with high strength and durability paints.
Finish : Matt and glossy varnish.
Limited and numbered edition of 1000 units. Numbered at the base.
Data sheet
Materials

Polyurethane foam
Polyurethane resin

Measurements

9,4 x 6,5 x 5,5 in (height/width/deep) aprox.