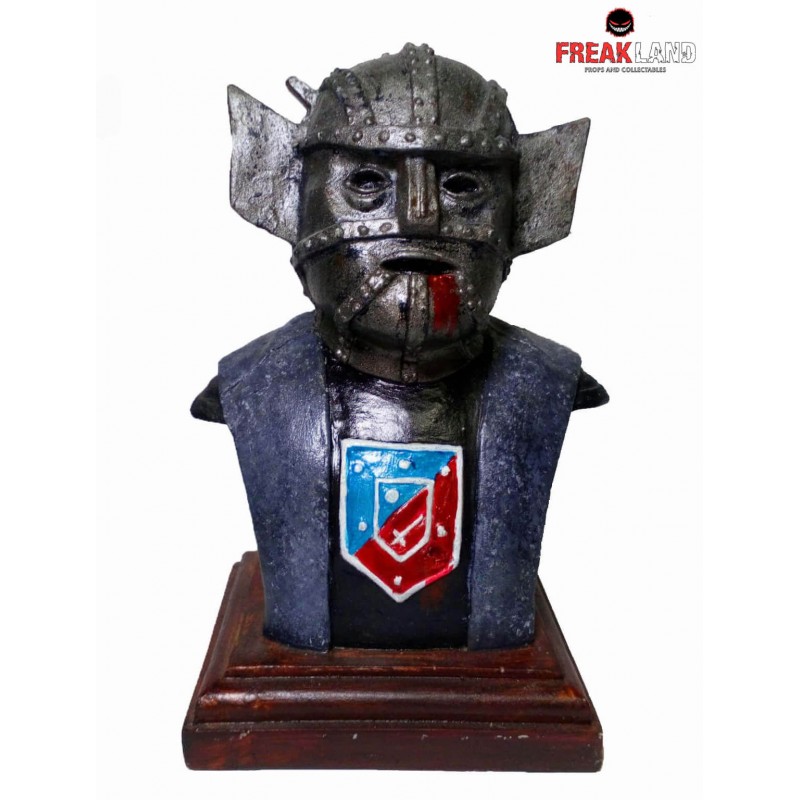  
The night of the werewolf bust
In the film starring, directed and scripted by Paul Naschy, we are told the story of Waldemar Daninsky, who suffers a curse that, every night of the full moon causes him to undergo a painful and ferocious transformation into a half-beast, half-human. character awakens from Hungary in the 16th century, after a death sentence that turned out to be a long lethargy, through the sacred cross forged with the silver from the chalice of Mayenza. And it is precisely this object that the entire film revolves around.
It is the condemnation and salvation of all those who surround that object and, furthermore, that double function under the tormented character of Waldemar is fulfilled. It is the object that will condemn his existence but, at the same time, the same one that will save him from his curse.
In the film represented we can see Waldemar Daninsky with the mask of ignominy.
----------------------------------------------------------------------------------------------
Technical data sheet :
This bust is based on  "The night of the werewolf aka The Craving (1981)".
Dimensions : 3,3 x 2,7 in (lengh/deep) square base. Bust is 6,3 in heigh including base.
Weight : 0,4 pounds aprox.
Materials : Polyurethane resin bust with a rigid polyurethane foam to lighten the weight of the piece. The forged cross is included separately to fit the bust.
Painting: Hand painted with high strength and durability paints.
Finish : Matt protection varnish.
Each bust is numbered on the back with the number engraved on the character's name.
Film pics
Data sheet
Materials

Polyurethane foam
Polyurethane resin

Measurements

6,3 x 3,3 x 2,7 in (height/width/deep) aprox.

Weight

0,4 pounds aprox.