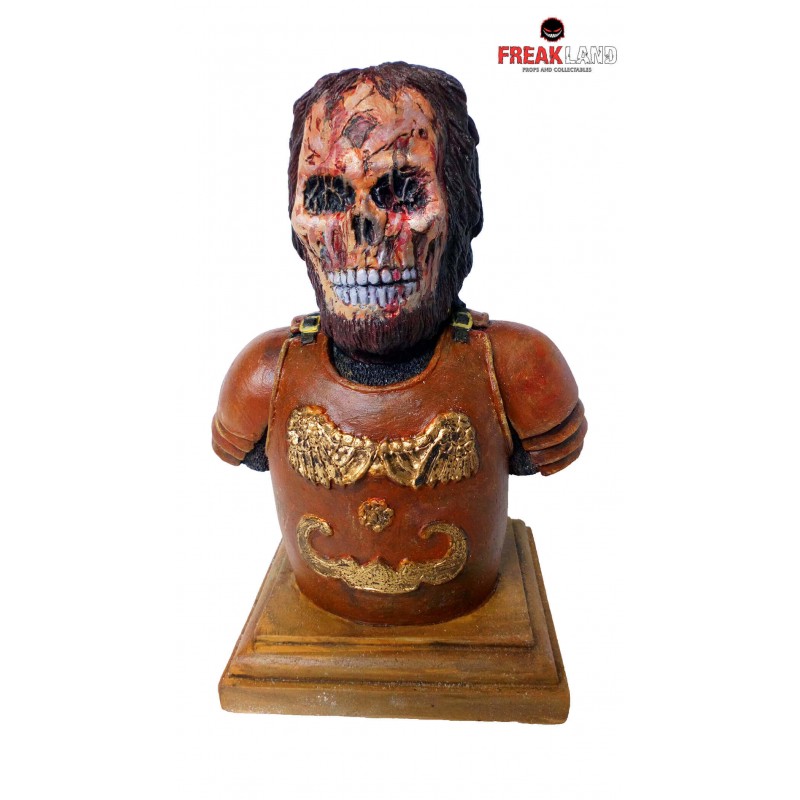  
Alaric de Marnac bust
Spanish horror legend Paul Naschy wrote directed and stars in this dark and macabre tale of lust, betrayal and ghostly vengeance. Naschy plays a descendent of the Alaric de Marnac character first seen in his 1973 film Horror Rises from the Tomb.
Desperate to salvage his crumbling financial empire, Paul Marnac (Naschy) decides to kill his heiress wife, Geneviève, played by Julia Saly. He enlists the help of a sexy and ambitious younger woman, Julie, played by former Miss Spain, Frances Ondiviela. Unfortunately, one murder is not enough to satisfy Julie's blood lust and greed. As the corpses pile up, she heads for a confrontation with an ancient and unstoppable evil.
----------------------------------------------------------------------------------------------
Technical data sheet :
This bust is based on  "Panic beats  (1983)".
Dimensions : 3,3 x 2,7 in (lengh/deep) square base. Bust is 6,3 in heigh including base.
Weight : 0,4 pounds aprox.
Materials : Polyurethane resin bust with a rigid polyurethane foam to lighten the weight of the piece.
Painting: Hand painted with high strength and durability paints.
Finish : Matt protection varnish.
Each bust is numbered on the back with the number engraved on the character's name.
Film pics
Data sheet
Materials

Polyurethane foam
Polyurethane resin

Measurements

6,3 x 3,3 x 2,7 in (height/width/deep) aprox.

Weight

0,4 pounds aprox.