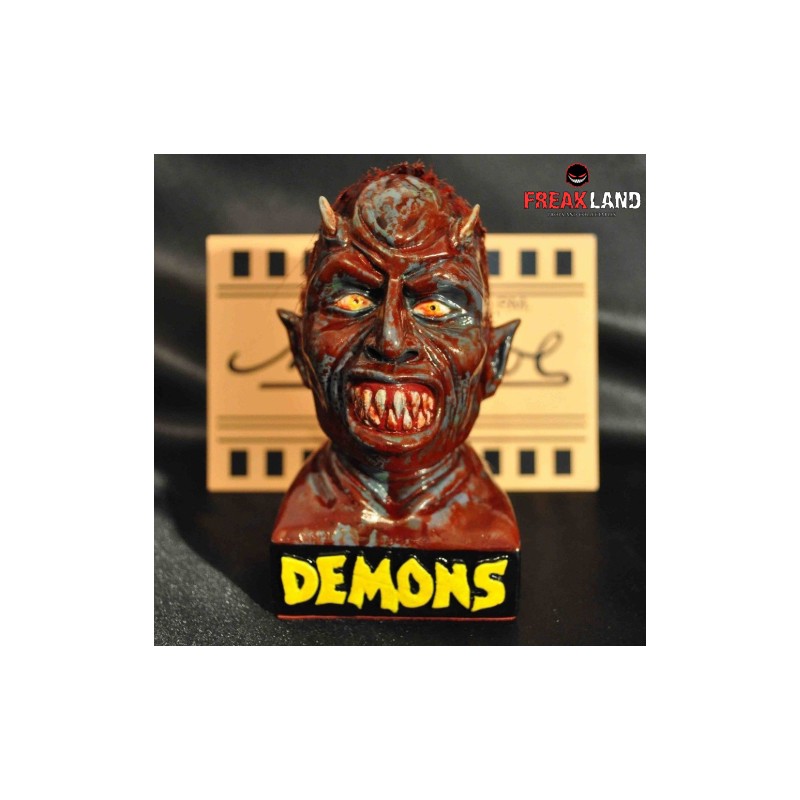  
Demons bust from Lamberto Bava's film
Demons (Italian: Dèmoni) is a 1985 Italian horror film directed by Lamberto Bava and produced by Dario Argento, starring Urbano Barberini and Natasha Hovey. The script was written by Bava, Argento, Franco Ferrini and Dardano Sacchetti, based on a story by Sacchetti. Filming took place in Berlin and Rome, in the film two young people decide to go to the preview of a horror movie and have a real nightmare after being trapped in the cinema with the other spectators. ​
Its sequel Demons 2 (Dèmoni 2 ... L'incubo ritorna) directed in 1986 also by Lamberto Bava and co-written and produced by Dario Argento is set in a modern and avant-garde intelligent building which becomes a death trap when a demonic creature emerges from a television. The entity turns its inhabitants into a horde of bloodthirsty zombies, who dedicate themselves, without reason, to devour and dismember all those who are unlucky enough to cross their path.​
----------------------------------------------------------------------------------------------
Technical data sheet :
Bust based on Demons 2 film (1986) directed by Lamberto Bava.
Dimensions : 5,12 x 2,75 x 2,16 in (height/width/deep) aprox.
Weight : 0,88 pounds aprox.
Materials : Made of 1 piece of polyurethane resin.

Painting: Hand painted with high strength and durability paints.
The figure base is covered by red velvet.
Included as a gift a Ticket Metropol, seen on the first part of Demons film. Ticket scale 1:1
Data sheet
Materials

Polyurethane resin

Measurements

5,12 x 2,75 x 2,16 in (height/width/deep) aprox.

Weight

0,88 pounds aprox.