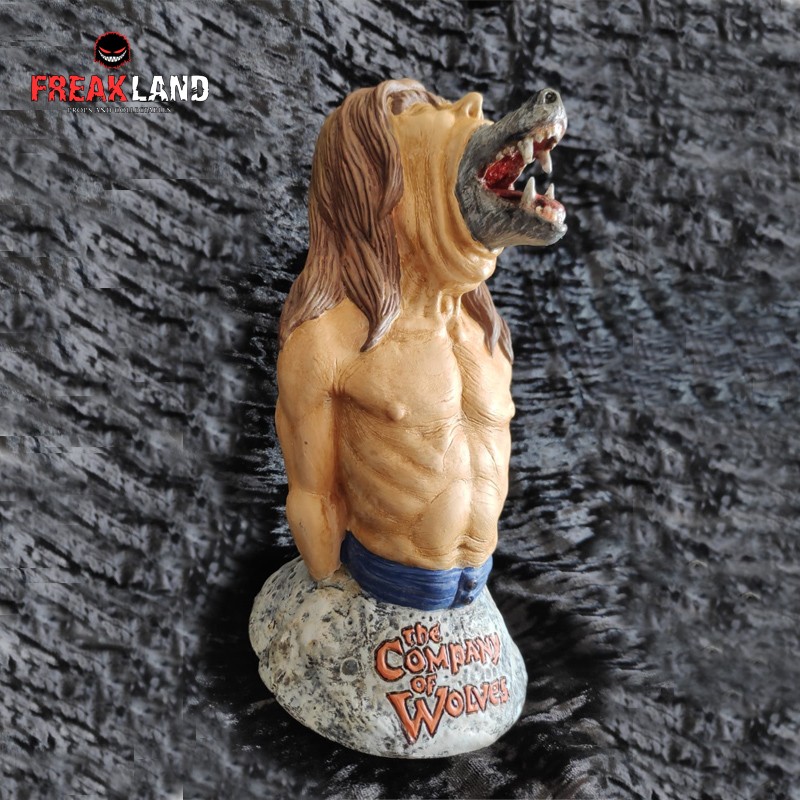  
The company of wolves bust
The Company of Wolves (En Compañia de Lobos in Spain and Criaturas del diablo in Mexico) is a film that mixes the fantastic and horror genres, directed in 1984 by the Irishman Neil Jordan and starring Sarah Patterson and Angela Lansbury.
The film is based on several stories of werewolves that appear in the book The Bloody Chamber by the writer Angela Carter, mainly the one also titled "In the company of wolves". Carter herself was, along with Neil Jordan, co-author of the script, inspired by both her stories and their previous radio adaptation. The film could also be considered a rather liberal version of the classic tale of Little Red Hood by Charles Perrault and the Brothers Grimm, where the supposed big bad wolf is actually a werewolf disguised as a man. The writer's first draft of the script, different in some ways from the film, was later published in The Curious Room anthology.
Despite the film's budget and the time it was shot, the special effects are remarkable. The soundtrack is by George Fenton.
----------------------------------------------------------------------------------------------
Technical data sheet :
Dimensions : 7,1 x  3,5 in x 4,4 in (lengh/width/deep) aprox.
Weight : 1,3 pounds aprox.
Materials : Polyurethane resin bust with a rigid polyurethane foam to lighten the weight of the piece.
Painting: Hand painted with high strength and durability paints.
Finish : Matt protection varnish.
The figure includes 8 din a5 size cardboard posters of the premiere of the film in various countries.
Don't miss this incredible figure. Amazing must have piece of a cult wolves films.
Data sheet
Materials

Polyurethane foam
Polyurethane resin

Measurements

7,1 x 3,5 x 4,4 in (height/width/deep) aprox.

Weight

1,3 pounds aprox.