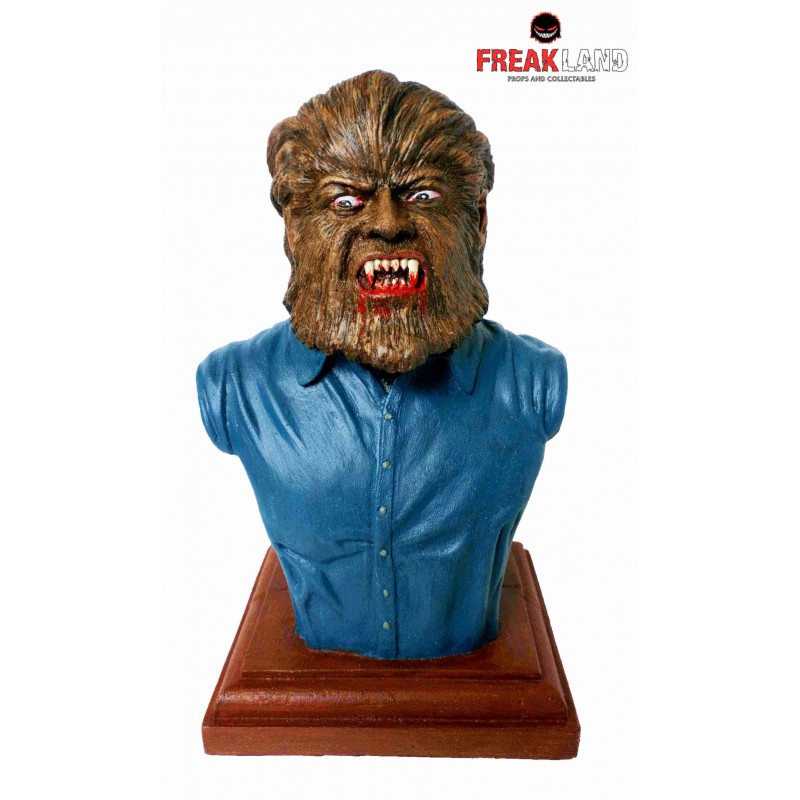  
Waldemar Daninsky bust
The werewolf Count Waldemar Daninsky (known in Spain as "El Hombre Lobo") is without a doubt Paul Naschy's most famous horror character, since he played Daninsky in 12 different films. In fact, Naschy holds the record for playing a werewolf the most number of times, easily beating out the great Lon Chaney Jr., who had only played a werewolf seven times during his career (counting La Casa del Terror and his appearance on "Route 66").
Unlike the Chaney Universal films, however, which formed a somewhat chronological storyline from picture to picture, Naschy's Daninsky films were not connected to each other plotwise. Each film was more or less a free-standing story that was not meant to relate to the other films in the series in the way the old Universal films did. Daninsky's lycanthropy had a different origin in each film (which many Naschy fans find confusing). This was probably for the best however, since in the 1970s, Euro-horror films were often theatrically distributed in the US several years after they were completed, and they probably would have all been released out of order anyway.
Naschy's only other recurring character was the villainous medieval warlock Alaric de Marnac (who appeared in Naschy's Horror Rises from the Tomb (1972) and returned to life again in a sequel, Panic Beats (1982)). Naschy claims he based this character on a real-life medieval nobleman named Gilles de Rais, a serial killer on whose life story Naschy also based the lead character in his 1974 film El Mariscal del Infierno (The Devil's Possessed).
----------------------------------------------------------------------------------------------
Technical data sheet :
This bust is based on Walpurgis night film.
Dimensions : 3,3 x  2,7 in (lengh/deep) square base. Bust is 6,3 in heigh including base.
Weight : 0,4 pounds aprox.
Materials : Polyurethane resin bust with a rigid polyurethane foam to lighten the weight of the piece.
Painting: Hand painted with high strength and durability paints.
Finish : Matt protection varnish.
Each bust is numbered on the back with the number engraved on the character's name
The figures comes with a COA signed by Sergio Molina, Paul Naschy's son as the bust supervisor and Domingo Lizcano as the bust sculptor and painter.
 Sergio Molina (Paul Naschy's son)
  Sergio Molina (Paul Naschy's son)
Don't miss this incredible limited and numbered figure. Amazing must have piece of a cult actor on fantaterror films.
Data sheet
Materials

Polyurethane foam
Polyurethane resin

Measurements

6,3 x 3,3 x 2,7 in (height/width/deep) aprox.

Weight

0,4 pounds aprox.