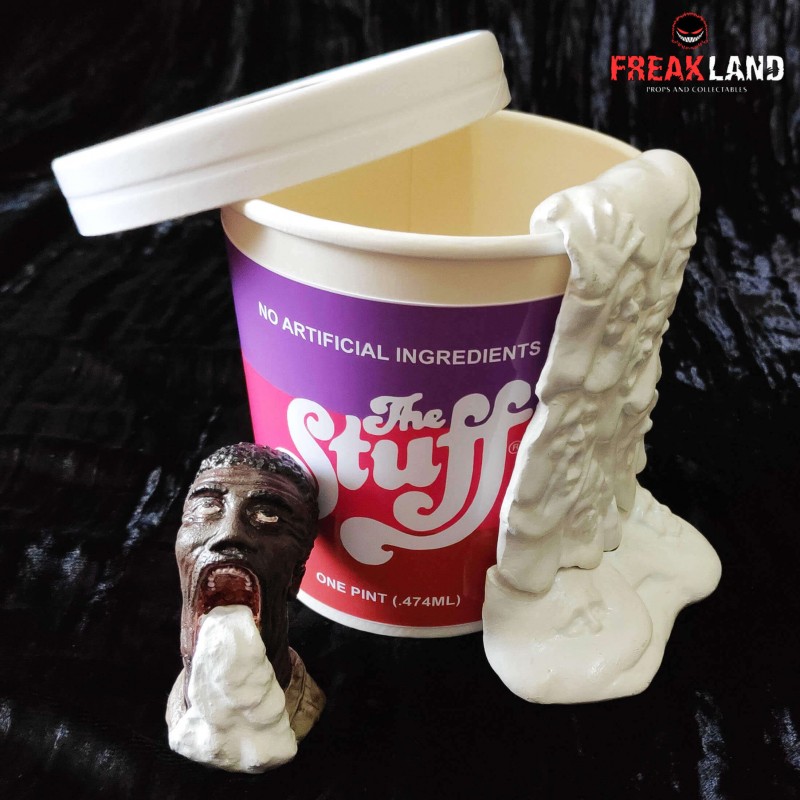  
The stuff (in-natural) pack
The Stuff (also known as Larry Cohen's The Stuff) is a 1985 American satirical science fiction horror film written and directed by Larry Cohen and starring Michael Moriarty, Garrett Morris, Andrea Marcovicci, and Paul Sorvino. It was also the last film of noted actor Alexander Scourby. In the film, a sweet and addictive alien substance becomes a popular dessert in the United States, but soon begins attacking people and turning them into zombies.
Classic gore and eighties horror cinema  for series b lovers , rarities and other horror treasures made with a very low budget but that retain their magic intact despite having more than thirty years of supernatural life. Michael Moriarty plays not very good in the film, shabby and conceited like few others but his constant fight with the killer yogurt will quickly get you into the plot.
Who has not wanted to try that commercial and viscous whitish product that clutters the minds and drives you all crazy. Being able to open the refrigerator overflowing with that creamy dairy flavor that is so much to talk about in 1985.
There are very funny moments and special effects that will make you laugh, it is a real delight, a must see.
----------------------------------------------------------------------------------------------
Technical data sheet :
Container Dimensions : 4,3 x 4 x 4 in (height/width/deep).
Materials : Cellulose container. Chocolate Chip Charlie and yogurt made of polyurethane resin. Yogurt are made in 2 pieces that fit and support.

The entire pack can be disassembled and stored inside the container.
Weight : 0,35 pounds aprox.
Painting: Hand painted with high strength and durability acrylic paints.
Finish : Matt and glossy varnish.
5 promotional film stickers are included as a gift.
Data sheet
Materials

Cellulose
Polyurethane resin

Weight

0,35 pounds aprox.