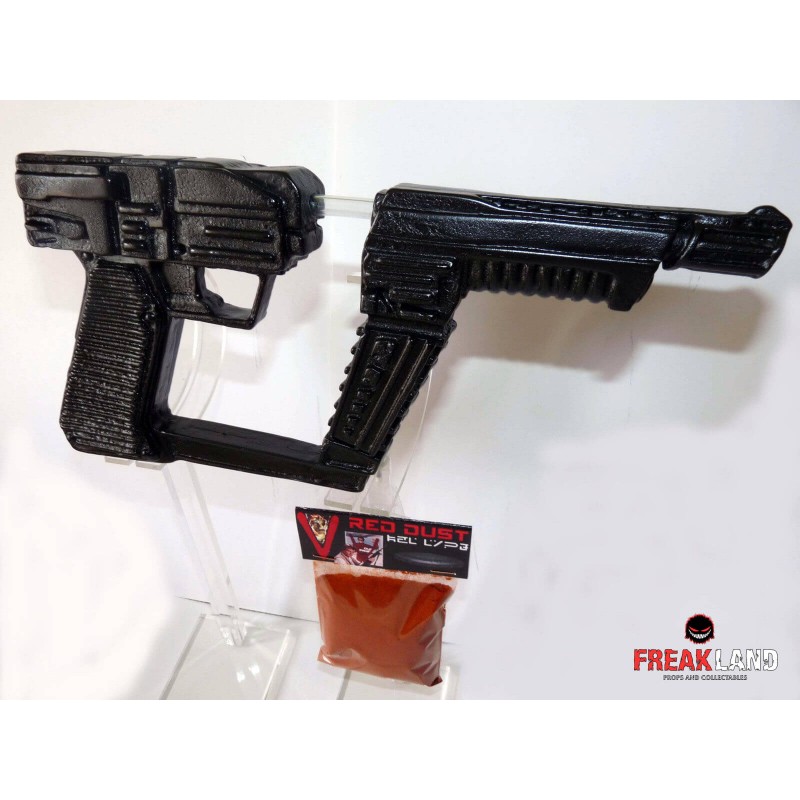  
V the visitors blaster
The television series V, The Visitors, issued during the years 1983 to 1985 and produced in the United States a great successtoday is considered of cult scifi series.
Aliens in human form arrives to Earth from the fourth planet of Sirius star seeking the help of humans to obtain necessary products for your planet. They share their advanced technological knowledge.
Initially friendly, soon after Michael Donovan (Marc Singer) discovers that beneath their human form, hide a preference carnivorous reptiles and hostility against human anger crescendo, so will require the formation of "The Resistance" to combat the evil plans of the aliens that are turning the land into their food source and leave humans as mere slaves.
Freakland presents you a survival kit with which every lover of the V series would have to defend against an alien reptiles attack.  The kit consists on a Blaster (laser gun used by visitors and also Donovan during their attacks with the resistance) and  a red dust packet.
----------------------------------------------------------------------------------------------
Blaster data sheet :
Dimensions : 11,2 x 5,4 x 1,6 in aprox (width/height/deep).

Weight : 1,08 pounds aprox.
Polyresin performed with high quality and durability.High temperatures and knocking resistance.
Totally hand made painted , matte black acrylic paints, enamels.
The red dust (V-dust) is a biological weapon developed by the human resistance to fight thevisitors.Released  at the atmosphere and ingested by reptiles, bacteria multiply this toxin,excreting waste products that interfere with lung function, leading to death from respiratoryfailure at few minutes.
The package contains 0,11 punds (50g) approx. of the toxin (inedible).
This survival kit also includes a batch of V-series pics as a gift.
Data sheet
Materials

Polyurethane resin

Measurements

11,2 x 5,4 x 1,6 in aprox.

Weight

1,08 pounds aprox.