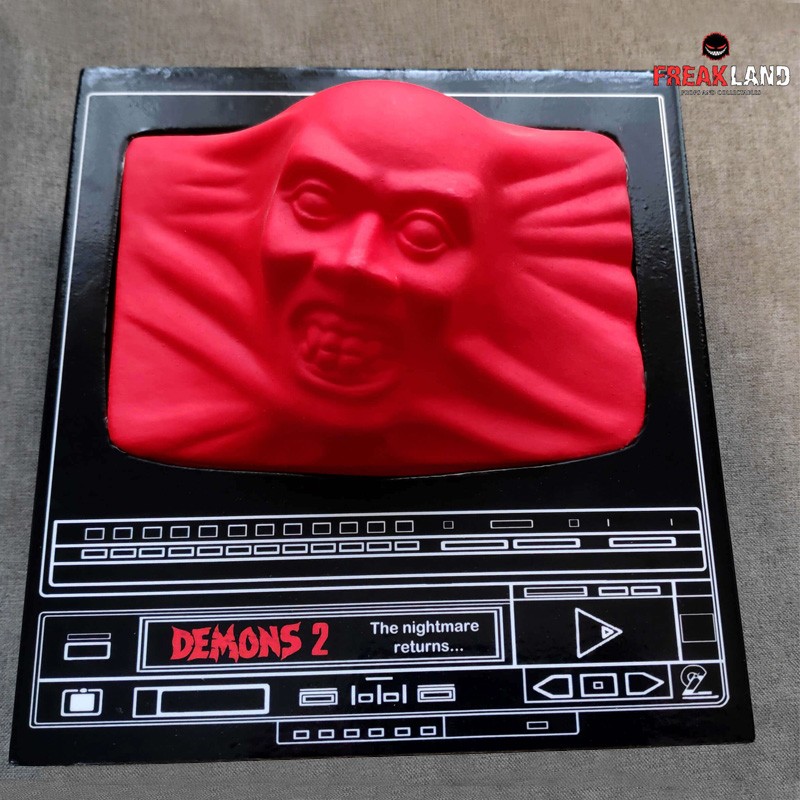  
Demons 2 TV scene prop
Demons 2 (Italian: Dèmoni 2) is a 1986 Italian horror film directed by Lamberto Bava and produced by Dario Argento. It is a sequel to Bava's 1985 film Demons and stars David Knight, Nancy Brilli, Coralina Cataldi Tassoni, as well as Argento's youngest daughter, Asia Argento, in her debut film performance at age 10. In the film, demons invade the real world through a television broadcast, turning the residents of an apartment building into bloodthirsty monsters. ​
Filming for Demons 2 began in May 1986, seven months after the release of the first film. Shooting took place in Hamburg, Germany, and Rome. Demons 2 was released in theatres in Italy later that year, distributed by Titanus. Following the release of Demons 2, development on a third Demons film began. The follow-up project ultimately became The Church (1989), directed by Michele Soavi, which is not narratively connected to Demons or Demons 2.​
----------------------------------------------------------------------------------------------
It is a totally handmade and professional recreation of the most fantastic and terrifying scene of the horror cult film demons 2.  It's the only piece on the market with this quality level in materials, details and precision.
Technical data sheet :
Dimensions : 8 x 6,5 x 3,5 in (heigh/width/deep) aprox.
Materials : Polycarbonate and wood.
Weight : 1,2 pounds aprox.
Painting : Hand painted with high strength and durability paints.
Finish : Matt and glossy varnish.
Decorative felt at the base to further seat the piece.
It includes a small installation of internal light to illuminate and give more reality to the scene (it works with 3 AA alkaline batteries not included with the figure).
This item is based on a video store display promo issued to video stores by Imperial Entertainment who put the movie out VHS on the 80s.
All figures are totaly handmade and built one by one.
Data sheet
Materials

Polycarbonate & wood

Measurements

8 x 6,5 x 3,5 in (heigh/width/deep) aprox.

Weight

1,2 pounds aprox.