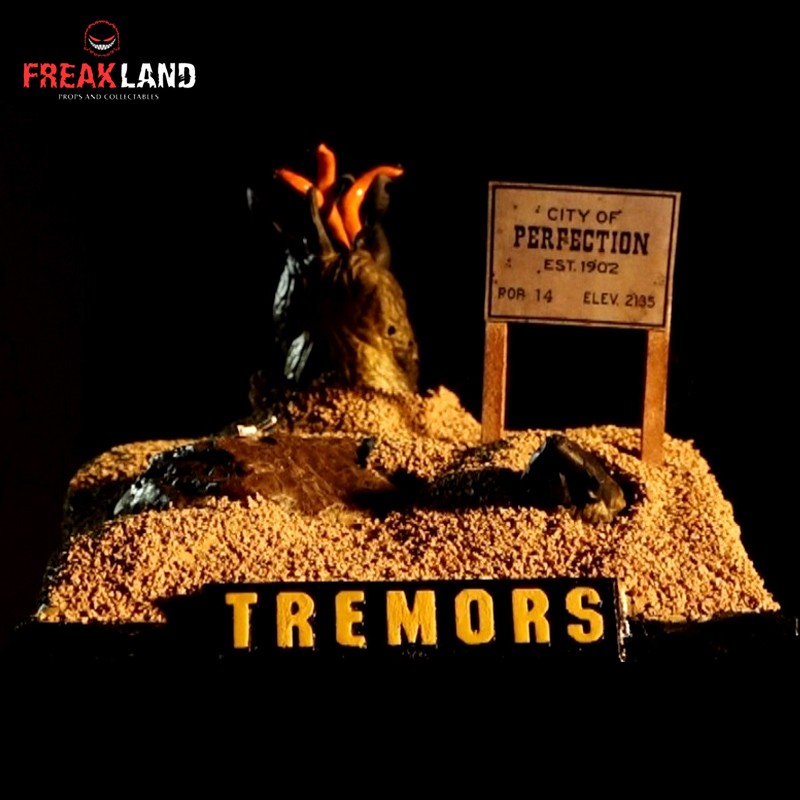  
Tremors diorama
Tremors is a 1990 American western-themed monster horror comedy film directed by Ron Underwood, produced by Brent Maddock, and S. S. Wilson, and written by Maddock, Wilson, and Underwood. Tremors was released by Universal Pictures and stars Kevin Bacon, Fred Ward, Finn Carter, Michael Gross, and Reba McEntire. ​
In the film, tired of their dull lives in the small desert town of Perfection, Nevada, repairmen Val McKee (Bacon) and Earl Bassett (Ward) try to skip town. However, they happen upon a series of mysterious deaths and a concerned seismologist Rhonda (Carter) studying unnatural readings below the ground. With the help of eccentric survivalist couple Burt and Heather Gummer (Gross and McEntire), the group fights for survival against giant, prehistoric, worm-like monsters hungry for human flesh.
The film is the first installment of the Tremors franchise[5] and was followed by five direct-to-video sequels and one prequel: Tremors 2: Aftershocks (1996), Tremors 3: Back to Perfection (2001), Tremors 4: The Legend Begins (2004), Tremors 5: Bloodlines (2015), Tremors: A Cold Day in Hell (2018), and Tremors: Shrieker Island (2020). A television series titled Tremors: The Series aired from March through August 2003.[6] A second television series was set to air in 2018 after a pilot had been shot with Bacon reprising his role for the first time since the original film, but multiple networks including Syfy passed on the series.​
----------------------------------------------------------------------------------------------
It is a totally handmade and professional diorama. It shows a recreation of one of the most fantastic and terrifying monster franchise movies of 90s and 00s.
Technical data sheet :
Dimensions : 5,9 x 5,9 x 4,9 in (heigh/width/deep) aprox.
Materials : Polyurethane resin / Vegetable photopolymeric resin / Wood / Glossy cardstock / "woodland scenics" sand.
Weight : About 1,4 pounds.
Painting: Hand painted with high strength and durability paints.

Finish : Matt and glossy varnish.
Industrial printer ink (poster).
All figures are totaly handmade and built one by one.
Data sheet
Materials



Polyurethane resin

Measurements

Weight