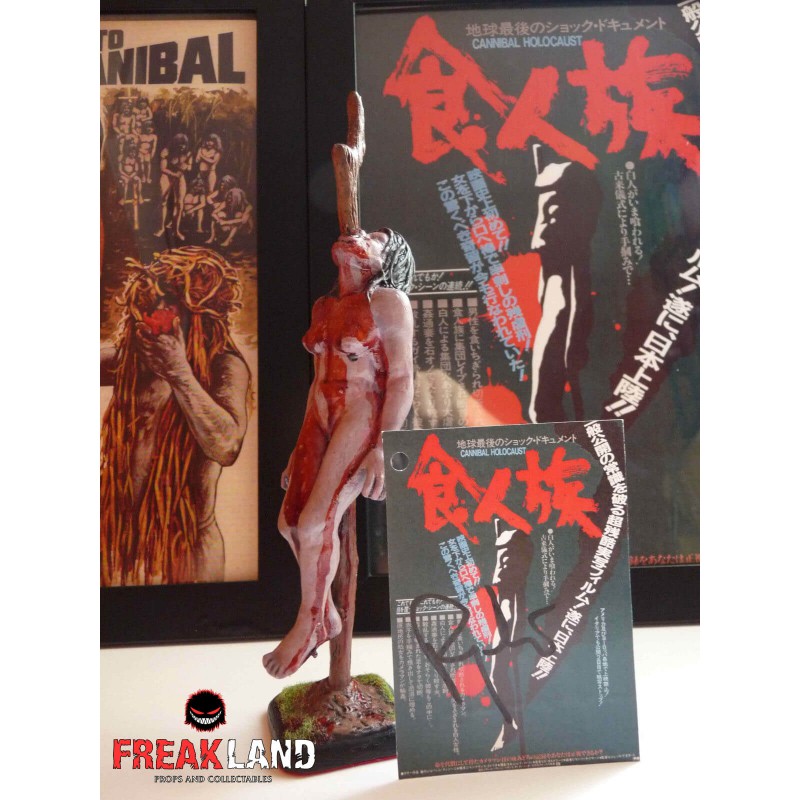  
Cannibal Holocaust official prop
For the first time worldwide, Freakland launches Cannibal Holocaust official figure (The impaled girl). This is an iconographic image of the genre and represents the film to everyone who has seen or heard about it. This film was a media bomb for its rawness and reality in some of his scenes.
The tremendous Deodato's film contains explicit images and some real, and this in particular that we do to immortalize. The impact created by the sequence of the impaled girl was so great, today there are many censored editions of DVD / Bluray , as well as the film in many countries.
----------------------------------------------------------------------------------------------
Technical data sheet :
Dimensions : 8,2 x 1,7 in (heigh/width).
Materials : High quality polyester resin.

Hand painted with acrylic paints and great strengh enamels.
Figure base includes artificial grass used in models.
Numbering in the base made of red/black velvet depending stock.
Weight : 0,18 pounds aprox. (80 g).
INCLUDED MINIPOSTER (2 DESIGNS TO CHOOSE) made with high quality prints, 200g/cm3 SIGNED BY THE DIRECTOR AND CREATOR RUGGERO DEODATO.
The 2 models to choose from are :
MINIPOSTER OF FILM PREMIERE IN SPAIN (size 3,7 x 2,7 in  height/width).
MINIPOSTER ARTWORK OF FILM IN JAPAN (size 3,7 x 2,7 in  height/width).
Get this cult piece for your shelf and enjoy the final jewel of Cannibal Holocaust.
Data sheet
Materials

Polyester resin

Measurements

8,2 x 1,7 in (heigh/width) aprox.

Weight

0,18 pounds aprox.